Members' Welfare
Living Away from Home
Each year over half of College Members are living away from home for the first time. This can be difficult, but it is also an exciting time where Members meet new people from different parts of the country and world. Although new Members may feel homesick in the first few weeks, our experience is that the College quickly becomes "home". This is facilitated by the College being divided into smaller sections (floors and houses) under the care of a College Leader whose primary role is to care for Members.
Our advice to new Members is to participate in College and floor events as much as possible, and engage in conversations during meal times in the Dining Hall as this helps in making friends and connections. These things will also be of huge value during the usual stresses of academic life.
Of course, our three core values (the three Cs) of courtesy, consideration for others and common sense go a long way in ensuring that the College is a home away from home for all Members.
Room Checks
If a staff member has serious concerns about your wellbeing and safety or that of other individuals likely to be in your bedroom, a welfare check will be done whereby a staff member will visit and enter your room.
Routine checks are carried out during the year for maintenance or other reasons, but you will be given at least 24 hours' notice before the room is entered
Your Floor
St Margaret's College Leaders
A team of College Leaders assists the Head of College in the leadership of the College by providing a welcoming, homely, caring, supportive and sought-after environment in which Members can thrive in all respects (academically, personally and socially).
Each floor and house has a College Leader who is available to assist Members with queries, ill health matters, advice, friendly support, a listening ear, encouragement, study issues, etc. Please feel free to contact your College Leader at any time; their role is to assist you. If they are unable to help themselves, they will refer you to some who can.
College Leaders also arrange floor activities and meetings, many of which Members are expected to attend (i.e. they are compulsory). By accepting a place at the College, Members are agreeing to actively participate in College activities, all of which helps to establish a sense of community (this can't happen on its own; your involvement is essential!).
Any problems relating to floor discipline and order should be discussed with your College Leader in the first instance.
Floor and House Kitchens
These kitchens are available for Members' use. There are cupboards and a refrigerator available for storage in each floor kitchen, but please name your goods. The College provides a stove, an electric jug, an iron and ironing board, a toaster and a microwave.
Concern for others
There are times where you might be worried or concerned about a fellow Member, friend or community member. We encourage you to start a conversation. You don't need to be an expert to reach out - just a good friend and a great listener.
Start a conversation with these four steps (source: https://www.ruok.org.au/):
Ask R U OK?
Listen
Encourage action
Check in
We encourage you to contact any staff member if you are worried about anyone. or you have not seen anyone for a while. You can do this by (in order):
Speaking to your floor's College Leader, or the College Leader on duty in the foyer each evening.
Calling our 24/7 duty number: 0800 COLLEGE (265 534)
Speaking to the Dean of Students
Speaking to the Head of College
Speaking to another member of staff
Emailing contact@stmargarets.college
Health Matters
Help from College Leaders
Please do not hesitate to let your floor's College Leader know if you are sick or injured or have any other health-related issues that the College needs to be aware of to support you appropriately. College Leaders also have access to first aid equipment and are trained to use it.
Help from the Kitchen
If a Member is unwell and unable to get to the Norris Dining Hall for a meal, the floor College Leader will arrange a tray meal in their room.
Student Health
The University's Student Health Service offers fully qualified medical treatment and counselling during office hours. It is located only a short distance from the College in Albany Street. If your work has been affected by illness, it is a good idea to ask Student Health for a medical certificate to that effect.
An after-hours medical service is available through Dunedin's Urgent Doctor Service or the hospital's Emergency Department.
When it is possible and necessary, College staff will assist with transporting Members to Student Health, Urgent Doctors or the Emergency Department at the hospital.
Health Concerns
As the College is not a therapeutic community and does not employ any specialist health services staff, it may not be able to meet an ill Member's ongoing care needs. In such cases, the College will normally require that the Member not be in residence. This may include either a temporary period of absence from the College for recovery purposes at home or elsewhere, or the permanent departure of the Member. If a Member is a threat to themselves or to the safety of others, the College will normally require the immediate and permanent departure of the Member.
If the College staff, including College Leaders, believe that it is necessary to undertake a without cause welfare check on a Member, they will normally provide 24 hours' notice of doing so. However, please note that College staff, including College Leaders, are mandated to enter a Member's room without permission if there are reasonable grounds to believe that immediate access is needed to safe life, or to reduce or eliminate serious risk to life.
Smoking & Vaping
In keeping with University policy, the College's buildings and grounds are also designated as non-smoking areas. If you wish to smoke please do so away from College and University premises (including driveways and carparks). For the avoidance of doubt, vaping and the use of e-cigarettes is prohibited within College buildings and grounds.
The University campus has been completely smoke-free since 1 January 2014.
Pandemic Safety
In the event of a Pandemic all Residents are expected to be prepared and adhere to:
Ministry of Health Directives and Guidelines
Ministry of Education Directives and Guidelines
University of Otago Guidelines
Instructions from College and University staff
Social Distancing Guidelines and Restrictions
COVID-19
During the COVID-19 pandemic the College will remain open unless closed by the Ministry of Education.
It is imperative at all levels that you advise a staff member when you are feeling unwell and if you have COVID-19 symptoms we strongly encourage you to seek a COVID-19 test.
You should follow the medical advice you receive and isolate in your room until your negative test result is returned to you. When you are isolating a staff member will deliver your meals and check on you. Should you need anything whilst in isolation contact the Duty Phone on (insert phone number).
The College will act in accordance with up to date advice from the Ministry of Health, Ministry of Education and University of Otago management. For up-to-date COVID-19 information from the University of Otago visit www.otago.ac.nz/coronavirus/.
Academic Matters
Study Skills
Studying at University level is very different to that of school and often means that students need to adapt their study approach. To help with this, at the start of the year, College Leaders give study skills advice and returning Members also help to advise first-year Members about different disciplines.
Tutorials
The College provides free tutorial classes for first-year Members when required. Tutorials for second year subjects may also be offered but on a more limited basis.
In the past, those who have taken advantage of the tutorial programme have performed well in examinations and had good results in selection for professional programmes at the University.
Members are encouraged to let the Dean of Students or their College Leader know if they are having difficulty with a subject. Sometimes individual help can remedy this, but if it is a common problem, the College may arrange a special tutorial.
The Dean of Students manages the tutorial programme.
Mentor Groups
First-year Members are encouraged to join special mentor groups led by returning Members who mentor, support, and encourage in a small group environment. The Dean of Students manages these mentor groups, which form a fundamental part of the St Margaret's system.
Release of Grades
As a condition of residence, the College requires Members to authorise the University to supply the Head of College with academic grades for the years they are in residence. This enables the College to assist Members academically, to monitor its tutorial programme, select returning Members, etc.
Help from Staff
The Head of College, Dean of Students, and College Leaders are happy to help Members who have queries or concerns about study-related matters.
Spiritual Matters
The College works closely with the official University chaplains, one of whom acts as the College Chaplain, and fosters involvement with local churches. Names of chaplains and times of services at local churches are posted on the notice board.
Returning Members can assist first-year Members with locating an appropriate church in the first few weeks.
Support Services
Below is a list of support and health services that you may find useful.
Name
Phone (tap to dial)
Website
Address
AskOtago
0800 80 80 90
03 479 7000
ask.otago.ac.nz
ISB (Central Library)
Campus Watch
0800 479 5000
03 479 5000
www.otago.ac.nz/proctor/campuswatch
St David Complex
Career Development Centre
03 479 8244
www.otago.ac.nz/careers
ISB (Central Library)
Chaplains
03 479 8497
www.otago.ac.nz/chaplain
Upper Room, University Union Building
Disability Information and Support
03 479 8235
www.otago.ac.nz/disabilities
West Lane, ISB (Central Library)
Dunedin Public Hospital
03 474 0999
201 Great King Street, Dunedin Central
Dunedin Urgent Doctor and Accident Centre
03 479 2900
www.dunedinurgentdoctors.co.nz
18 Filleul Street, Dunedin Central
Healthline
0800 611 116
International Office
03 479 7000
www.otago.ac.nz/international
Clocktower Building
Lifeline Aotearoa
0800 54 33 54
Text 4357
www.lifeline.org.nz
OCASA Dunedin
03 474 1592
www.ocasa.org.nz
OUSA Support Centre
0800 12 10 23
www.ousa.org.nz/support
5 Ethel Benjamin Place, campus
OUSA Club and Socs
03 479 5960
www.ousa.org.nz/clubsandsocs
84 Albany Street, campus
Pacific Island Centre
03 479 8278
www.otago.ac.nz/pacific
1 Leithbank, campus (corner Leithbank & Clyde Street – yellow house opposite Commerce)
Social Impact Studio
03 479 8631
www.otago.ac.nz/social-impact-studio
ISB (Central Library)
Suicide Crisis Helpline
0508 82 88 65
Student Health
0800 479 821
03 479 8212
www.otago.ac.nz/studenthealth
Cnr Walsh & Albany Streets
Student Learning Development
03 479 8801
www.otago.ac.nz/hedc/students
65/75 Union Place West, campus
Te Huka Mātauraka
The Māori Centre
03 479 8490
www.otago.ac.nz/maoricentre
515/519 Castle Street North, campus
Te Whare Tāwharau
Sexual Violence Support and Prevention Centre
0800 479 379
03 479 3790
www.otago.ac.nz/te-whare-tawharau
5 Leithbank, campus
Consent
In all relationship matters it is essential that mutual respect and consent is followed by both parties. All Members of the College must be very clear on the meaning of sexual consent. Complaints of sexual activity without consent will be treated as serious misconduct and investigated in line with the University's Sexual Misconduct and Response Team (SMART) Policy and/or the NZ Police.
The following are very good guidelines:
Consent must be CLEAR. The absence of a no does not mean yes. Silence is not consent. No means no.
Consent must be COHERENT. People who are asleep or incapacitated by drugs or alcohol cannot give consent.
Consent must be WILLING. It is never given under pressure, whether that is emotional or physical manipulation or threats being used.
Consent must be ONGOING. If someone consents to one sexual activity, that doesn't mean consent to all activities.
As a College community you are also responsible for each other. Please look after your friends and be pro-active in supporting anyone who is in potential danger or harm.
During the first weeks of the College year, Te Whare Tāwharau will come to the College and provide the CommUNIty102 workshop. This is a workshop designed with first years in mind, to explore ideas about relationships and to learn skills to create a community that looks out for everyone.
For more information about consent
By taking the time to learn about consent and to consider your values, you are saying that you value having a community that everyone thrives in. You may find these of use for further information about consent:
Reporting
The University of Otago's sexual violence support and prevention centre is called Te Whare Tāwharau. They offer free, confidential support for any student who needs assistance and are available for walk-ins and phone support.
If you have had an encounter or incident that leaves you feeling uncomfortable or uncertain you are encouraged to seek help and support. You can approach any member of College staff who will treat you with respect and care. A staff member may encourage you to seek additional assistance from the College management. You may also wish to contact a support agency such as those below:
Cultural Activities
The College has a proud tradition of cultural achievement.
We complete annually with Salmond and Studholme Colleges for the Iona trophy. In its long history, we have won it more times than anyone else! We compete for it through debating, choir, and public speaking.
The College's choir is of a very high standard, and is often asked by the University Chaplains to perform for graduation thanksgiving ceremonies.
Our Sunday Formal Dinners provide a wonderful opportunity for the musicians amongst us to entertain the College with their talent.
The University's Inter-college Cultural Competition runs throughout the year and provides many opportunities for Members to participate in different types of activities.
The OUSA also provides a huge variety of clubs and societies for you to join. You certainly won't be bored!
Music Facilities
The College has a Music Room with an excellent practice piano and keyboard. There is a baby grand piano in the Valentine Common Room, a piano in the Study Centre, and another baby grand piano in the Norris Dining Hall.
The Music Room piano may be used for practice at any time outside of quiet hours. A booking sheet behind the Music Room door will enable people to book practice times for the week ahead.
So that individual music students always feel free to practice, the Music Room cannot be used for private academic study.
The Valentine Common Room piano may be used until 11:00 pm Sunday to Thursday, and midnight on Friday and Saturday, unless instructions are given to the contrary. To avoid disturbing people studying in the Library and small tutorial room, and B floor residents, please ensure that the hallway door is closed before playing the piano.
Māori and Pasifika Students
The College makes every effort to ensure that people from all cultures feel welcomed and cared for.
The College has links with the University's Te Tumu School of Māori, Pacific and Indigenous Studies, the Māori Centre and the Pacific Islands Centre. Members of the College are encouraged to use the services they offer.
One of the College Leaders also hold the portfolio for International, Māori, and Pasifika Support. You are welcome to speak with this College Leader if you require any additional support or for answers to your questions.
Community Service
St Margaret's College places a high emphasis on community involvement. To start the year, rather than having initiations we take part in a community service project during Orientation Week. In the past, these have included helping to build an entire house for Habitat for Humanity, working with Te Araiteuru Marae, assisting at the Orokonui Eco Sanctuary, and cleaning up the Water of Leith and Andersons Bay Inlet .
Towards the end of the year, we have an evening of performances for Friend-Link, an organisation that helps people with special needs. This is a lovely night of entertainment for them, and is always a highlight of the year for the performers. The College provides a supper afterward where Members serve the guests.
Members are also encouraged to take part in other volunteering activities which are facilitated by the University's Volunteer Centre and in community organisations.
Sports
In the sporting arena the College contests for the Southgate trophy with Salmond and Studholme Colleges, and we participate in the University's Inter-college Sporting Competition in a variety of sports, for example soccer, volleyball, cricket, basketball, futsal, hockey, and eSports.
During Orientation Week, the entire College participates in the fun Inter-college Sports Day.
Often Members of the College will organise social sports teams, and of course you can also get involved with University and community club sports.
The College has a tennis court for Members to enjoy. It also doubles as a basketball or netball court or backyard cricket ground.
UniPol, the University's well-equipped gym and recreation centre, is just a five-minute walk from the College and is free to use for all University students.
Keeping a Balance
The Head of College will regularly remind Members of the importance of keeping a balance in order to succeed academically and manage stress.
In addition to attending to your studies, you should make sure that you get sufficient sleep, undertake regular exercise of some sort, spend time socialising with others, and do other things that you enjoy. Use the following diagram to help you plan how you spend your time each day.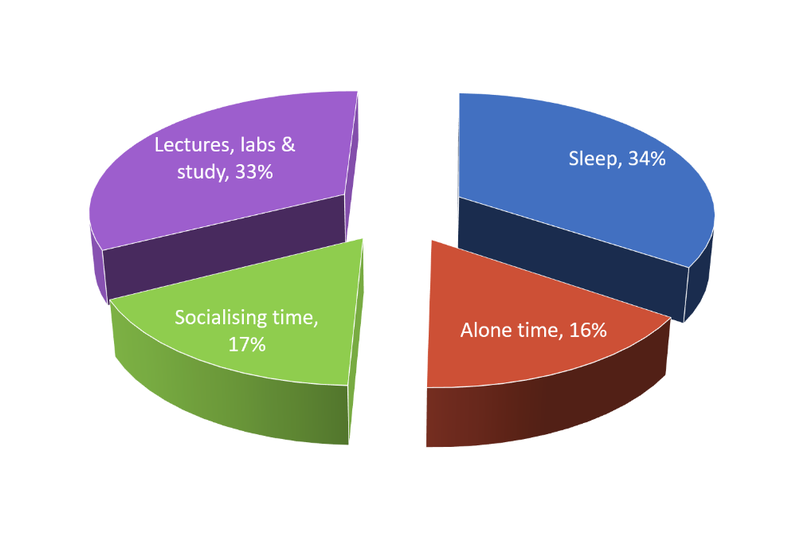 Positive Wellbeing and Selfcare
From the moment students first walk through the College doors they are made to feel welcome and included in daily life at the University of Otago. Great emphasis is put on providing a safe, inclusive, and transparent environment where students have ready access to information and guidance on their rights and responsibilities. Comprehensive services and avenues for sharing and problem-solving provide the opportunity for self-care, to maintain personal health and well-being and to ensure that their safety is maintained during their stay at any one of the University of Otago Colleges.
When we think of success in a University setting, we often think of academic success alone, without pondering the individual life success stories that help lay the groundwork for wider academic success. These personal success stories are set against the background support provided by the College and its staff. This support and guidance can best be described using Te Whare Tapa Whā, the four cornerstones of Māori wellbeing.
Taha hinengaro, mental and emotional wellbeing
College staff are available for onsite support 24 hours a day through floor College Leaders, who are professionally trained in pastoral care, with an emphasis on inclusivity in all areas. Guidance, individual check ins, and tools for successful living are provided. Mental health services are readily available, backed up by support networks and structures, whether they be in person, by phone, or online.
Taha whānau, social wellbeing
Encouraging those who attend the College to actively engage in the social aspects of College Life, getting to know others, forming friendships and bonds and participating in the many regular social activities the College provides.
Taha tinana, physical well-being
Physical wellbeing starts in the kitchen, with the College providing healthy and nutritious meals, working with those students with dietary requirements to create meal plans for everyone. Healthcare for everyday bumps, bruises and colds are provided by first aid trained pastoral staff at the Colleges, with further professional health care provided through Student Health and associated University and Community Health Care providers.
Provision is also made for assisting those with physical or mental disabilities, from providing wheelchair access to a location, through to study notes from Disability Information and Support and beyond. Physical wellbeing also encompasses the provision of opportunities for physical activity, with College staff actively providing regular sporting, recreational, and cultural activities to promote a healthy, active lifestyle.
These activities are typically run within and between the Colleges, and through University teams, clubs, societies and groups. Physical security is also available 24 hours a day at Colleges and on campus through Campus Watch, the Proctor, and through security and staffing provided directly at the College.
Taha wairua, spiritual well-being
Colleges are multicultural, and socially and religiously diverse, and as such there are a range of support services and guidance available to students, from the Māori and Pacific Island Centres, through Chaplaincy Services, to OUSA LGBTQIIA+ support and guidance.
Evenings and Weekends
Members having difficulties during the evening should contact the duty College Leader in the foyer. During weekends, problems should be referred to the College Leader on duty whose name is posted in the window of the Administrator's Office. College Leaders have delegated authority from the Head of College.
Confidentiality
Members should be aware that study, behaviour and health matters are not confidential to an individual College Leader but to the team of the College Leaders, the Head of College, and the Dean of Students. This is important for pastoral care purposes.
You should expect that individual College Leaders will share such matters with the College management team as necessary. Members are asked to please not put individual College Leaders in a difficult position by asking them to keep such matters confidential to themselves. Because the Head of College has concern for the whole College, the College Leaders are obliged to consult with the Head of College. The Head of College will only share personal or sensitive information on a "need to know basis".
College Leaders may suggest to Members that it might be more appropriate if some matters are shared with a Student Counsellor, a Chaplain or other support service provided by the University, the OUSA, or some other community service organisation.
There are occasions when it may be necessary for the Head of College or other members of the management team to contact or disclose information to relevant parties (e.g. parents/caregivers, health professionals, financial guarantors). This may occur when:
We have concerns regarding the health or wellbeing of a Member.
There is a clear or imminent danger to a Member or staff member; including College Leaders.
There have been serious breaches of the College and/or University College guidelines or policies.
Payment of accommodation fees is in arrears.